It took me about a week to get accustomed to the culture here in Kenya but when I did, it made life much easier. The second week of my stay here started off really well. On Monday, I had the opportunity to meet Deborah Rogo, the daughter of Khama Rogo, who owned the hospital. Deborah is the acting General Manager of Sagam Hospital and was a great source of knowledge in terms of hospital operations. Seeing from her point of view gave me very useful insight of operations from the local context. I then presented my analytical findings and masterplanning to her. She had a few comments on things that I may have misunderstood due to the difference in context but overall she agreed with my analysis. From her feedback, I went back and worked on my traffic flow analysis of the hospital to prepare for my presentation with Khama Rogo.
The next day, Deborah gave me a tour of the entire hospital and the sites for expansion. Sagam Hospital has a lot of plans for expansion including housing for their workers. They have been having a difficulty recruiting new members because of the hospital's remote location. I learned that provincial hospitals need to be built with housing in mind to encourage healthcare workers to work there. Since the housing were still under construction, I got a sneak preview of how they locally construct buildings. For most one story buildings, Kenyans use a combination of mud bricks and concrete to build load bearing walls, which are approximately 200mm in thickness. For every 4 layers of bricks, they use a metal bar or "wall pass" to add strength. The bricks are made by simply digging up their abundant soil, pouring that in a mold, then leaving it to dry in the sun. This makes their wall construction very affordable. After the tour, I got back to work on the designs for the 3rd level and the masterplan for the hospital including its expansion.
I then got a call from Khama who told me to observe some masons working on the flooring for the entrance of the ER to see if I can get inspired by local craftsmanship. They used the thin stone and placed it on top of cement mixed with rough sand. Their methods of making the path were simple and rudimentary but highly effective.
On Wednesday, Khama finally arrived and I was able to meet him for a quick update of what I was doing. I presented my analysis and designs. He agreed with me that the old building has poor access to natural light and air ventilation. After the discussion, he told me that he was going to be in Kenya for 5 straight weeks and that he wants a lot of construction done before he leaves. Apart from the 3rd level, he wants to implement what I had proposed for the OPD in class last semester. What I have noticed so far was that construction only really happens when Khama is present on site. He is very hands on with construction and spends a great deal amount of time to make sure everything is moving.
Khama then shared his plans for the second level of the hospital. He wants to add another level above the old building and asked me that if I was not working on the 3rd level, that I should be "dreaming about the 2nd level". I took that as a call to action that I should design the second level. Currently, the doctors in the hospital did not have their own office space. The expansion of the second level would provide them with just that. Designing the second level also gave me the opportunity to give the first level more access to natural light and improve passive ventilation.
I felt accomplished that Khama had asked me to help him design the second level and that he trusted me as a designer. It was not part of the initial responsibilities that I was tasked with but am happy to accept more work while I was there. Like I said in my last post, I want to make the most of my trip here. After conversing with Khama, my tasks now included helping implement the 3rd level of the ER, masterplanning the entire hospital, landscaping, redesigning the OPD, and now designing the second level of the old hospital.
Thursday started off really interesting because I volunteered to be a patient for a medical simulation. The MGH fellows hold simulations every Monday and Thursday to better equip the Sagam Hospital healthcare workers. My role for this simulation was a construction worker that had fallen off a ladder and was then unconscious. I was instructed to lay down at the waiting room. I was then transferred to a gurney and brought to the resuscitation room. I cannot recall the last time I was being transferred using a hospital bed. It was quite unnerving. After several physical exams, they then had to put a neck brace. Overall, the fellows and I were impressed with the performance of the doctors and nurses.
After the simulation, Khama called me asking me to meet a man named Werewn who was in charge of construction for the steel roof. I had to then explain to him what was happening for the second level. It was a strange feeling being depended on like that in spite of my recent arrival. On my way back to the house, I bumped into Khama who asked me if I could present all my work to him. I then proceeded to present my traffic flow analysis, masterplan, and landscaping.
Throughout the presentation, it was very exciting seeing his eyes light up and that my work resonated with him. He then went on approving my designs and saying that he will work on it within his 5 week stay to make them a reality. It left me in a state of both giddiness and fear because I am finally getting work out in the real world. I have designed quite a bit of built projects but all of them were personal work for my own business. This was the first time that it was for someone else.
On Friday, Tim Duchenness, my first teammate from RISD finally arrived. After giving Tim the tour of the hospital, we then got working on the 3rd level designs to make it ready for implementation. Now that Tim was present, I was able to spend more time on the other designs that needed doing. As per Khama's instructions, we needed to start construction. So Tim and I met the masons that were going to build the curved walls that's part of our 3rd level designs.
We spent the weekend working at the hospital. For Saturday, we were instructed to foresee the beginning of construction at 7:30 in the morning. When Tim and I arrived on time, we had to wait for a couple of hours until all of the workers had arrived. It turns out that just like the Philippines, Kenya had their own sense of time. When they actually started construction, it felt great because we were finally getting physical work done. We started with clearing the floor debris and then we started constructing the curved walls using brick.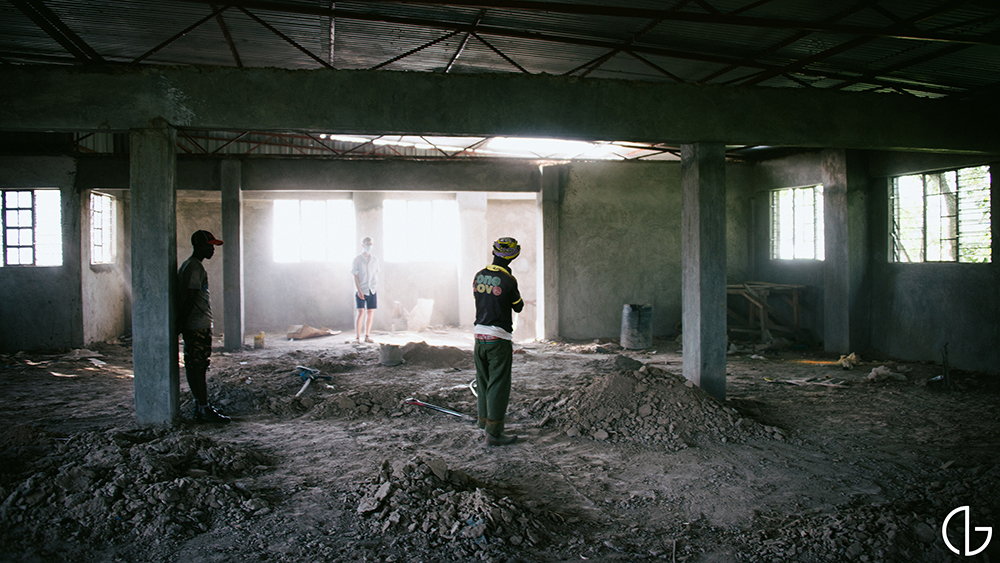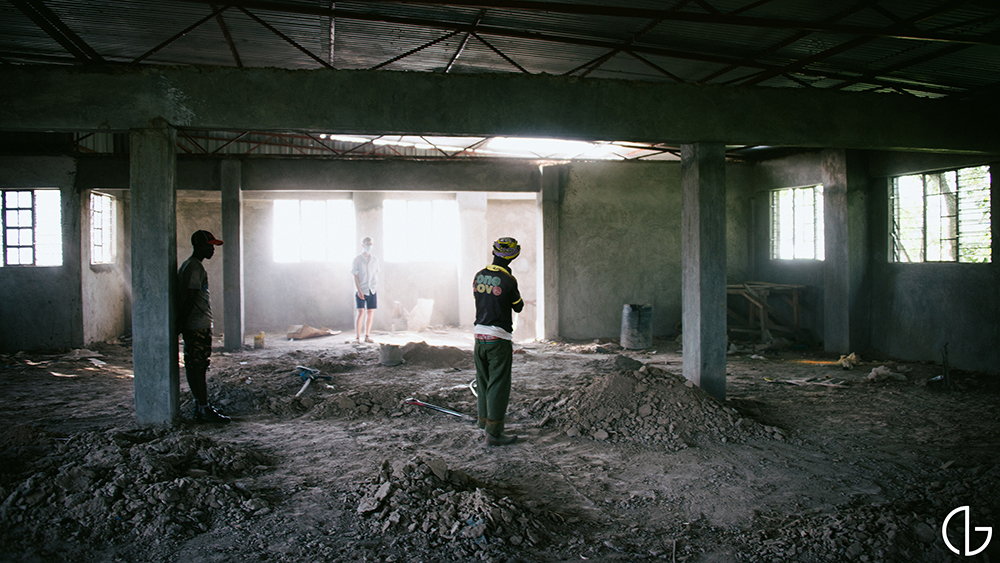 On Sunday, I prepared a construction schedule for us. Another aspect of design that I had to learn on the spot. Thankfully, everyone seemed to be on board with the schedule that I had proposed. Overall, the week was a pretty productive one.